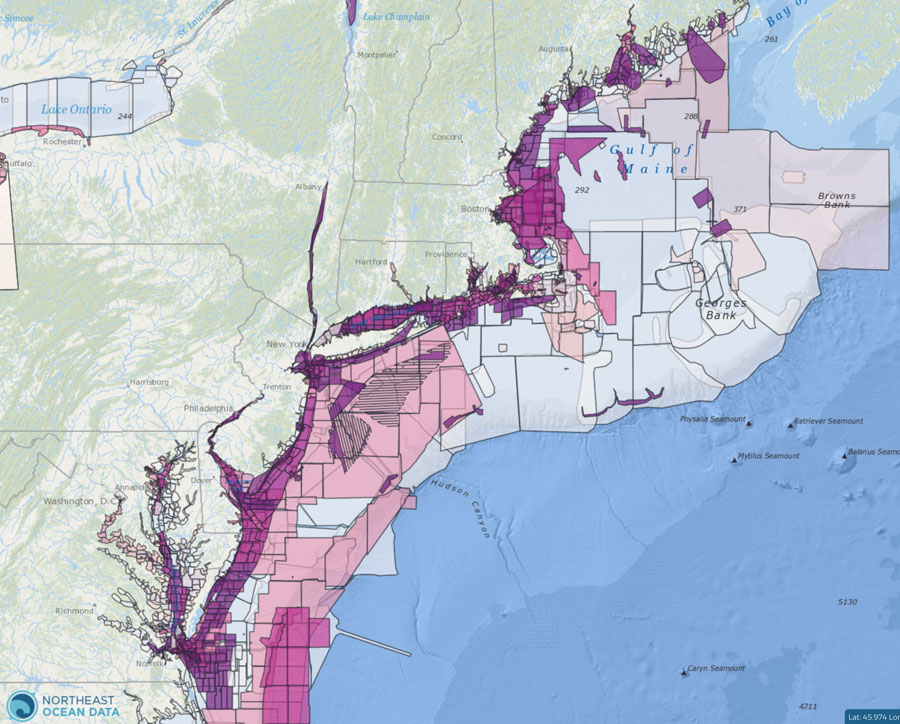 Use the Data Explorer to find and download high-resolution bathymetry data from around the region hosted by the NOAA National Centers for Environmental Information (NCEI). Open this Data Explorer map and click any footprint to reveal the data download link in a popup window. For additional sources of externally hosted data, visit the Data Download page.
This page contains links to data and information from our partners related to bathymetry and seafloor characterization in the Northeast U.S. Visit each source to find more detailed methods and points of contact.
BlueTopo is a compilation of the nation's best available bathymetric data. Created as part of the NOAA Office of Coast Survey nautical charting mission and its National Bathymetric Source project, BlueTopo is curated bathymetric source data to provide a definitive nationwide model of the seafloor and the Great Lakes. Blue Topo is still under development for many parts of the nation, but the New England region has been completed. BlueTopo will soon be available to view and access as a web service through nowCOAST™. You can find the BlueTopo available through NOAA's Big Data Program.
This bathymetry layer is gridded at 16 m and is based on a synthesis of 196 high-resolution multibeam echosounder (MBES) datasets collected by multiple agencies and compiled by the University of New Hampshire Joint Hydrography Center/Center for Coastal and Ocean Mapping. The original gridding, survey source, and other relevant information can be accessed on the UNH JHC/CCOM website.
Gulf of Maine Seascapes Project
This is a 3-year collaborative project among Maine, New Hampshire, Massachusetts, and the NOAA Office for Coastal Management.
DATA COMING SOON.
The Maine Coastal Program's Mapping Initiative (MCMI) works with its partners to investigate the seafloor to improve maritime navigation and safety, increase public access to detailed seafloor information, and promote informed ocean planning. The information that MCMI collects is used by scientists and managers to research and manage marine ecosystems and increase Maine's resiliency to environmental changes.
The Digital Elevation Model can be obtained as a 32-bit GeoTIFF file, a NetCDF file, a ZIP file containing an ESRI ASCII Grid, or via the web services provided by the THREDDS Data Server.
The Joint Hydrography Center is a formal cooperative partnership between the University of New Hampshire and the National Oceanic and Atmospheric Administration (NOAA) whose aim is to create a national center for expertise in ocean mapping and hydrographic sciences.
Integrated terrain models covering 16,357 square kilometers of the Massachusetts coastal zone and offshore waters were built to provide a continuous elevation and bathymetry terrain model for ocean planning purposes.
This work sought to compile the best-available elevation and bathymetry data for the state, then construct a new, continuous topographic/bathymetric digital elevation model (DEM).
This web site provides information on the background and motivation for the mapping initiative, updates on the field activities conducted to date, interpretive story maps describing some of the results to date, and multimedia links to images and video of the beauty and complexity of Sound.