ABOUT THE NORTHEAST OCEAN DATA PORTAL
Public Source of Expert-Reviewed Data and Maps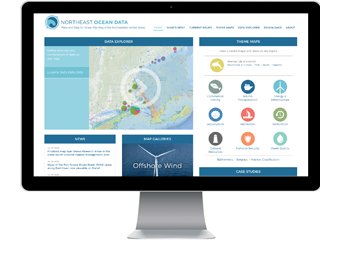 Established in 2009, the Northeast Ocean Data Portal provides free, user-friendly access to expert-reviewed interactive maps and data on the ocean ecosystem, economy, and culture of the northeastern United States. The Portal's maps show the richness and diversity of the ecosystem and illustrate the many ways that humans and environmental resources interact. Portal users can view maps and data by theme, by creating custom maps in the Data Explorer, and by downloading data for use in other applications.
Decision Support Tool for Northeastern U.S.
The Portal facilitates decision making by government agencies, businesses, non-government organizations (NGOs), academic entities, and individuals. Case Studies provide examples of how people use the Portal to inform fisheries management, maritime safety, aquaculture siting, offshore wind development, ocean planning, and other processes. From 2012 to 2016, federal and state agencies used the Portal for development of the Northeast Ocean Plan.
Made Possible by Many Data Providers and Collaborators
The Portal was developed and is maintained by the Northeast Regional Ocean Council (NROC), but many organizations contribute. Data providers include state and federal agencies, scientists, ocean industries, non-government organizations, and other entities. All of these groups, plus a variety of stakeholders, review Portal data and advise on data presentation and visualization. A core team, the Northeast Ocean Data Working Group, maintains and updates the Portal's databases, maps, and website. The Northeast Ocean Data Working Group includes the Northeast Regional Ocean Council, NOAA Office for Coastal Management, Northeastern Regional Association of Coastal Ocean Observing Systems (NERACOOS), RPS, The Nature Conservancy, and Waterview Consulting.
Video: Portal Overview
Contact Us
Do you have a question, comment, or suggestion about the Portal? Please email Nick Napoli at contact@northeastoceandata.org.
To use Northeast Ocean Data Portal maps or data in your work, please cite:
NROC (Northeast Regional Ocean Council). 2009. Northeast Ocean Data Portal, www.northeastoceandata.org. Date accessed: MM/DD/YYYY.