The Northeast Ocean Data Portal now shows updated maps of publicly owned wastewater treatment facilities, other facilities, outfall discharge pipelines, and outfall discharge points that discharge significantly to coastal surface waters at or near the contiguous U.S. Atlantic coast. These maps were provided by the NOAA Office for Coastal Management and first published on MarineCadastre.gov.
The Facility and Outfall datasets originated from U.S. Environmental Protection Agency (EPA) public databases including the EPA National Pollutant Discharge Elimination System (NPDES), Facility Registry Service (FRS) data, the EPA Enforcement and Compliance History Online (ECHO), and the Integrated Compliance Information System National Pollutant Discharge Elimination System (ICIS-NPDES). The data were filtered to include primarily publicly owned wastewater treatment plans (POTW) and other facilities with major permits.
The Coastal Wastewater Pipe layer originated from NOAA Office of Coast Survey – Electronic Navigation Charts (ENC) data. Pipelines related to these types of facilities were filtered from the ENC data and updated where possible based on permit or other data. 
The three wastewater datasets are linked together through a "Facility Registry ID" that allows users to explore additional information about facilities connected to pipelines that terminate in outfalls and discharge points. In the Data Explorer under Water Quality, click on a feature to open a popup which contains the ID, along with a unique URL for each set of features that will open the corresponding entry in the EPA Facility Registry Service database.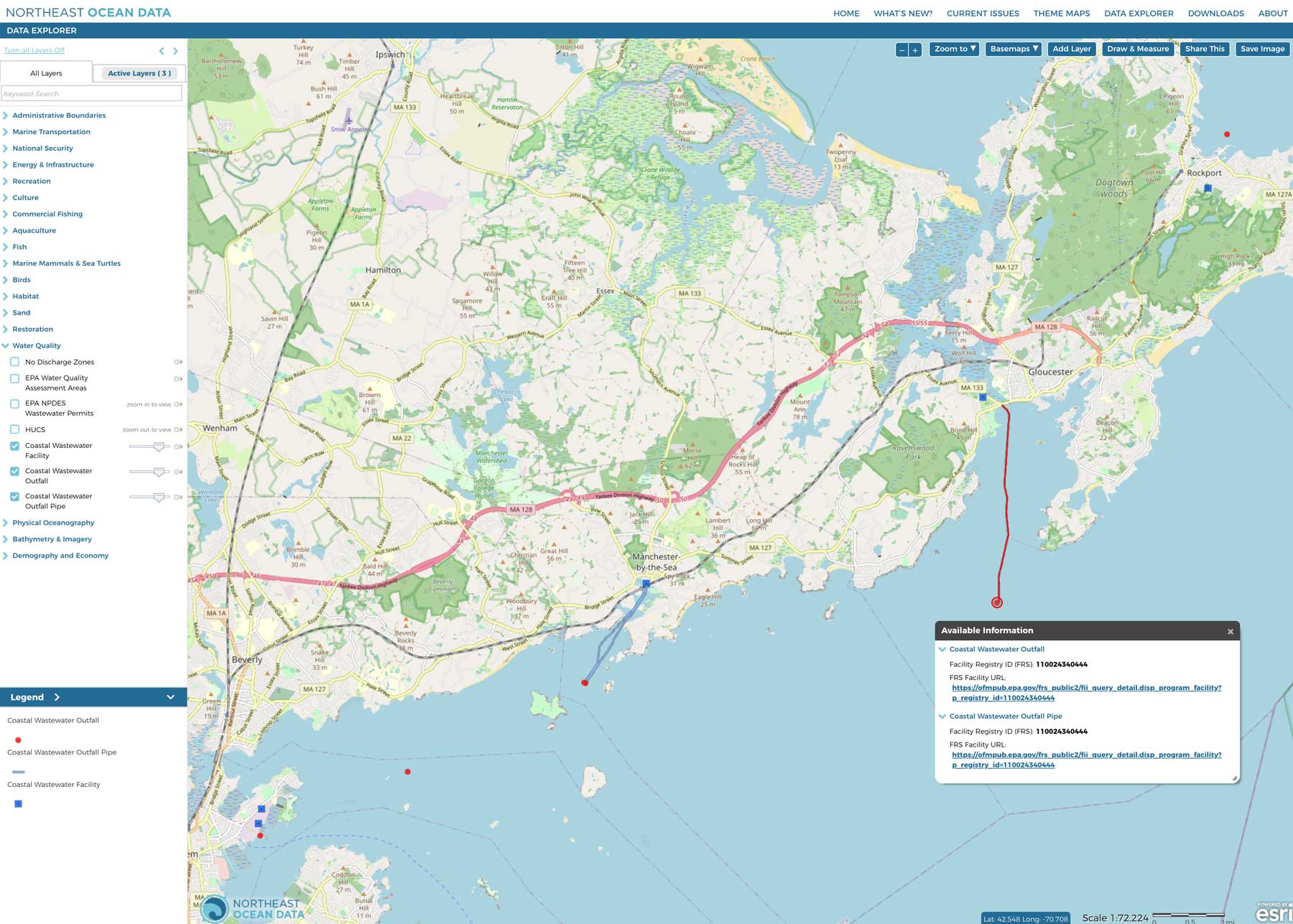 Screenshot of Data Explorer map showing coastal wastewater facilities (blue squares), outfalls (red circles), and outfall pipes (blue lines) from Salem Sound to Cape Ann, Massachusetts. An informational popup opens when the user clicks on one of those features, such as this example with information about the Gloucester Wastewater Treatment Facility.