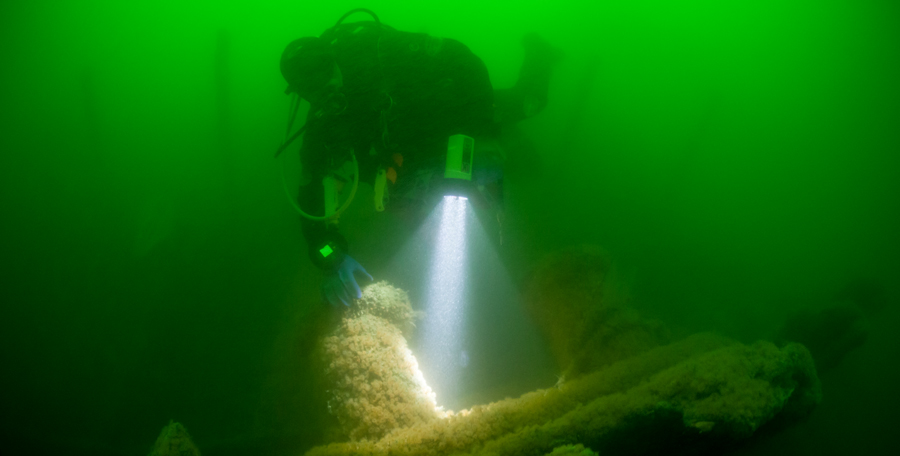 Recreational scuba diver at a wreck near Cape Cod. (Photo credit: Ethan Daniels/Shutterstock)
Shore- and boat-based recreational scuba diving is a popular activity occurring at various sites throughout the Northeast, primarily focusing on historical shipwrecks, interesting benthic habitat communities, and popular wildlife viewing areas. In collaboration with dive club members, dive shop owners and instructors, diving enthusiasts, charter operators, naturalists, and other experts over the past year, the Northeast Ocean Data Portal Working Group reviewed its Recreational SCUBA Diving Areas map layer and developed a new layer that shows the locations and observations from the Volunteer Fish Survey Project conducted by divers, snorkelers, and other marine enthusiasts in the Northeast through the Reef Environmental Education Foundation (REEF).
The updated scuba maps are available to view and explore in the Recreation theme map and the Data Explorer.
The group of experts reviewed the Recreational SCUBA Diving Areas layer and verified that it continues to be a good representation of activity in the region. That layer was first developed in 2015 through the Characterization of Coastal and Marine Recreational Activity in the U.S. Northeast conducted by the Northeast Regional Ocean Council and Northeast Regional Planning Body with SeaPlan, Surfrider Foundation, and Point97.
The Portal Working Group also worked with REEF to develop a new map layer that depicts over 250 scuba diving locations from Newfoundland to Virginia where volunteers have submitted reports of their observations of fish and other marine life during dives. Portal users can click on each location in the REEF Dive Sites and Reports layer, view the site name, and access a summary of diver surveys at that location.
For example, at a dive site near Nubble Light in York, Maine, 155 diver surveys have been recorded with 84 individual species reported over time, including American lobster, northern puffer, frilled anemone, and several species of sponge.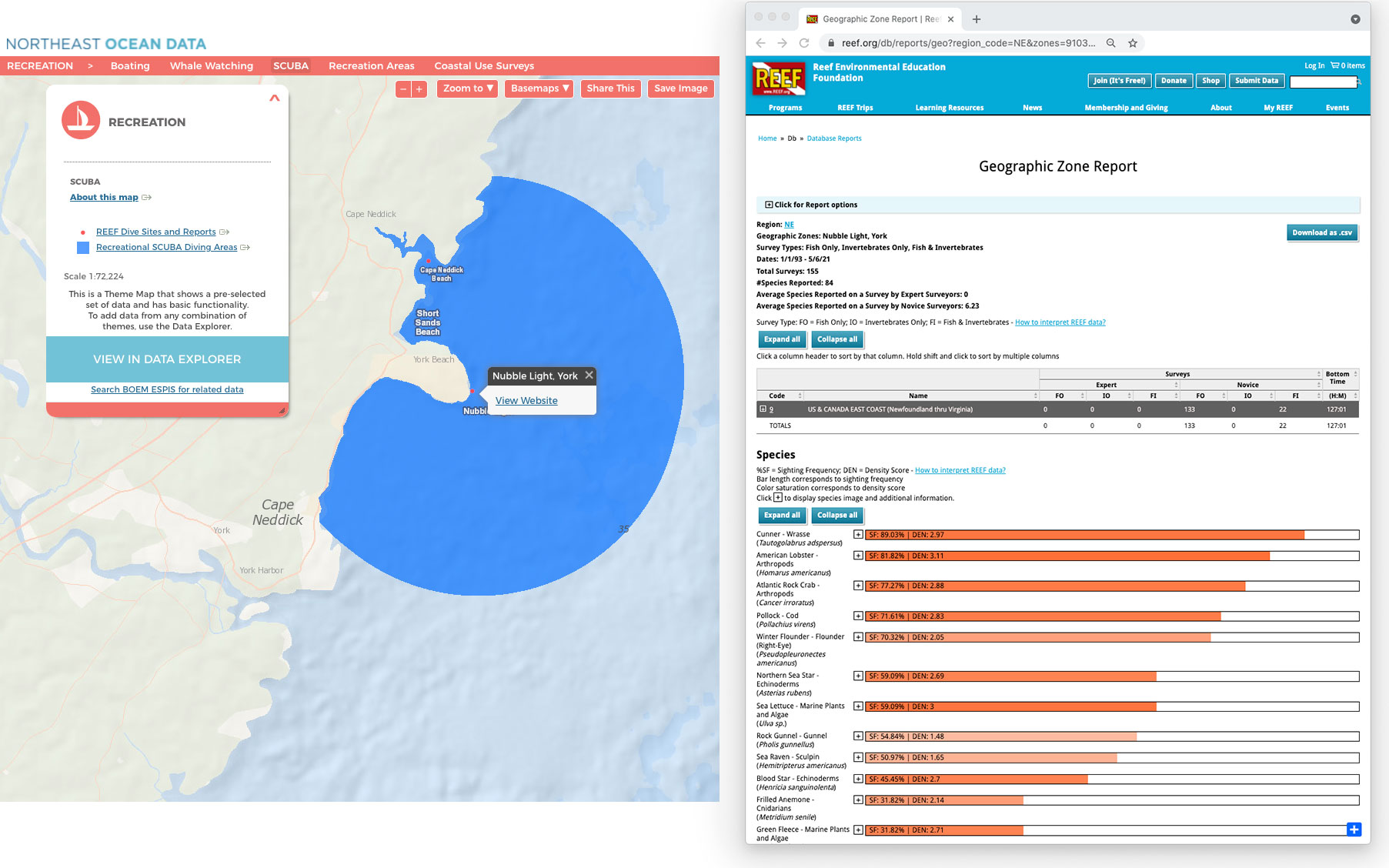 Recreation theme map displaying Recreational SCUBA Diving Areas and REEF Dive Sites and Reports. Clicking on a REEF Dive Site reveals a link to view a summary of volunteer surveys conducted at that location. These map layers are also available in the Data Explorer.
Sea raven and divers at Nubble Light, Maine. (Video credit: Mark Karl)