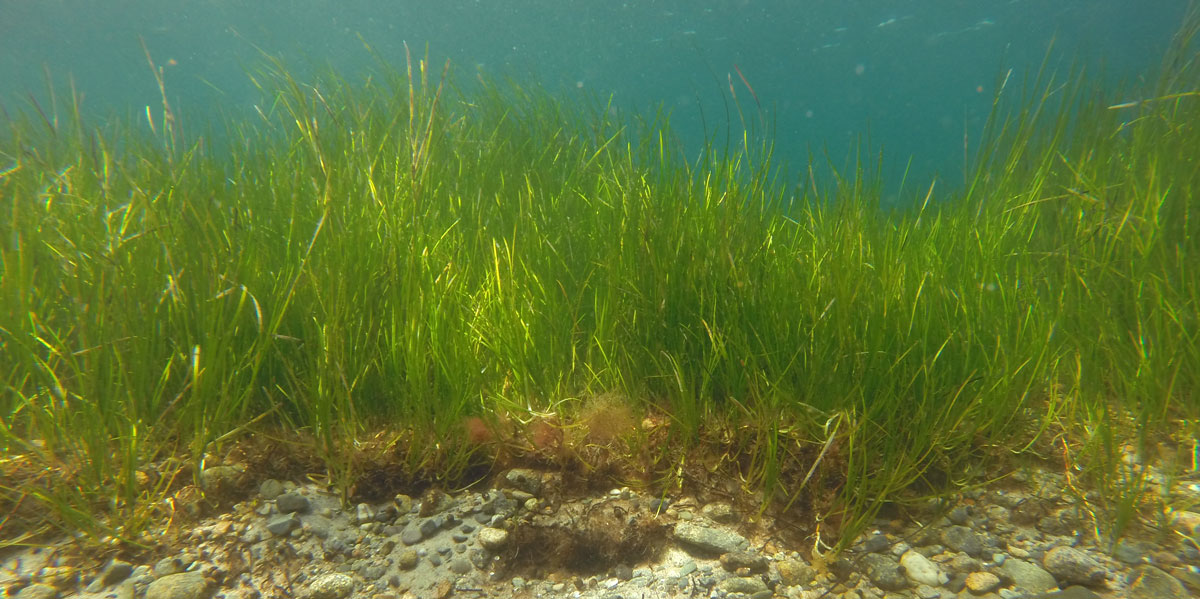 Eelgrass meadow. (Photo credit: Phil Colarusso)
The Portal's regional composite eelgrass layer, which was first developed in 2014, has been updated in collaboration with US EPA Region 1 and a group of experts throughout the Northeast. EPA and the experts are collaborating with the Northeast Ocean Data Portal throughout 2021 to update and enhance coastal vegetation datasets on the Portal and develop new products representing blue carbon stocks in these important habitats. In the first phase of this project, the extent of eelgrass habitats has been updated to reflect the most recent surveys from Maine through New York.
In addition, the expert working group guided the development of a new layer that depicts areas where eelgrass was present in the past and/or could be present again in the future throughout coastal New England waters. The historical eelgrass extent layer was created from several separate datasets for the states of Maine, New Hampshire, Massachusetts, Rhode Island, Connecticut, and New York. Datasets that were included in the historical layer were derived from quantitative surveys such as aerial photography and/or field verification. The range of historical data available varied greatly by state, and as a result, users are encouraged to read the metadata report for more information.
The updated Eelgrass Meadows layer can be viewed in the Biological Habitat Theme Map. The updated Eelgrass Meadows layer and the Historical Eelgrass Extent layer can be viewed within the Habitat > Biological category in Data Explorer.
In the next phase of the project, the Portal Working Group will update the historical eelgrass data repository to reflect these updates. The Portal has maintained this repository of past eelgrass surveys, where users can download each available eelgrass dataset throughout the region individually, since 2014. The Portal Working Group will also continue to work with EPA and experts to refine blue carbon maps for release later this year. EPA and the expert working group will develop a report documenting the input datasets, methods used, and results of the blue carbon mapping effort.
Background
Eelgrass (Zostera marina) is a flowering underwater plant that provides food and shelter for a great variety of commercially and recreationally important fish and shellfish and their prey. The presence of eelgrass is an important consideration for a variety of coastal and ocean management activities.
Blue carbon is the term used to define carbon sequestered in marine habitats, i.e., seagrasses, marshes, and mangroves. Research has shown the carbon storage potential of these habitats are much greater than those of terrestrial forests and other habitats.