On January 3, 2023, the U.S. Coast Guard released a draft report for the Approaches to Maine, New Hampshire, and Massachusetts Port Access Route Study (MNMPARS). The Coast Guard is seeking public comments on the content, proposed routing measures, and development of the report. All comments and related material must be received on or before February 13, 2023. See the notice on Regulations.gov for instructions for how to submit comments.
Portal users can view the recommendations contained in the report in the Data Explorer under Marine Transportation > Proposed Areas and Studies.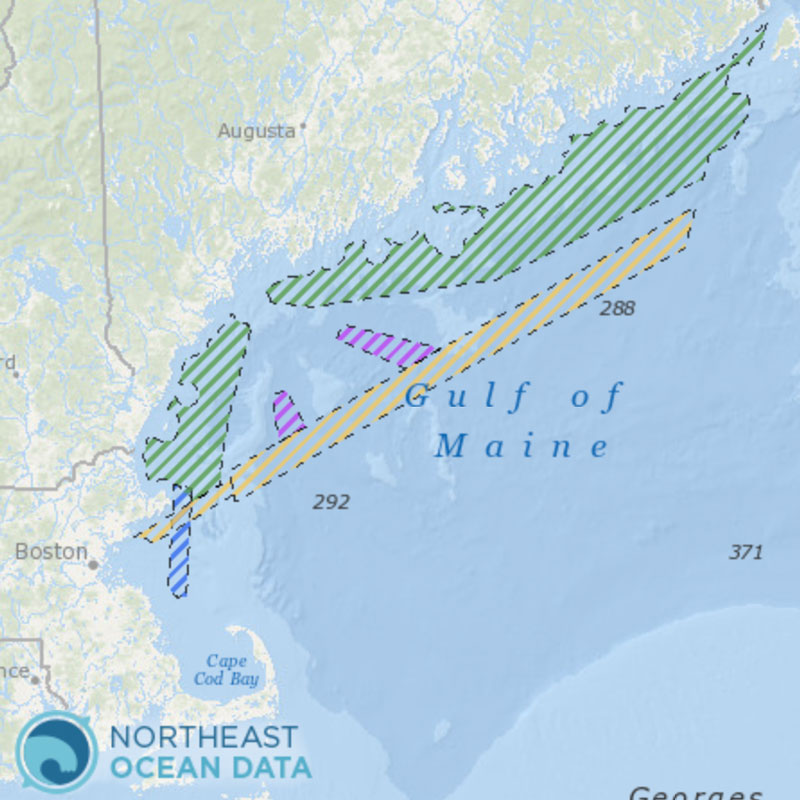 Screenshot of Data Explorer map showing recommended routing measures in the draft MNMPARS report.
The recommendations and results of the MNMPARS are based on data gathered and analyzed, comments received to the docket, public outreach, and consultation with other government agencies. The notices, supporting documents and all comments received are available in the public docket (USCG-2022-0047).
Through the study process, multiple sources of data were considered including a detailed Automated Identification System (AIS) and Vessel Monitoring System (VMS) traffic analysis, commercial fishing statistics, public comments, and partner agency submissions. The First Coast Guard District concluded that port expansion projects, changes in fishery management and species distributions, and offshore renewable energy infrastructure, may result in the introduction of larger vessel classes, greater traffic densities, and displacement of some traditional transit routes within the study area. Implementation of shipping safety fairways that will preserve unobstructed transit of densely trafficked routes and port approaches would best mitigate a heightened risk of marine casualties.