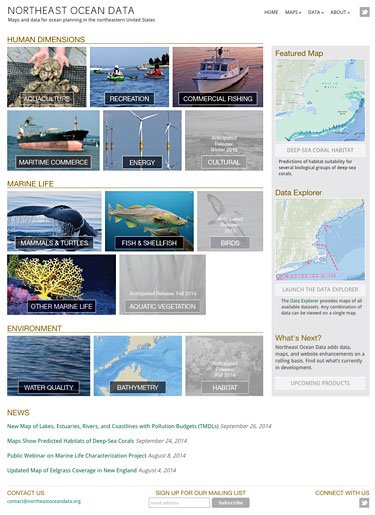 To accommodate the rapidly growing collection of maps and data available on Northeast Ocean Data, we are posting a redesigned home page today.
The clickable photographs for data themes are now grouped into three categories — human dimensions, marine life, and environment — to make it easier for website users to find what they are looking for. For each data theme, there is an interactive map and/or a collection of data resources.
The black-and-white photos are placeholders for data themes that are currently in development. The anticipated date of release is listed on the photo. More information is available on the Upcoming Products page.
The right column of the new home page contains the Featured Map, which highlights a noteworthy data set, and the Data Explorer, which can be used to view, overlay, and download all of the data sets hosted by Northeast Ocean Data.
Those changes and others on the home page are intended to make it as simple as possible to access the rich data resources that we continue to develop in collaboration with numerous organizations and individuals.