The Northeast Ocean Data Portal, in coordination with the Marine-life Data & Analysis Team (MDAT) and the Mid-Atlantic Ocean Data Portal, recently released updated maps of the U.S. Atlantic coast depicting the distribution and biomass of 81 fish species, and the distribution and abundance of several cetacean species.
Together, these entities will host a public webinar on July 31, 2019, from 12:00 to 1:30 p.m. to introduce the new data, demonstrate Portal features, and answer questions. The presenters will be Jesse Cleary and Corrie Curtice (MDAT/Duke University Marine Geospatial Ecology Lab), Emily Shumchenia (Northeast Ocean Data Portal/MDAT), Marta Ribera (The Nature Conservancy/Northeast Ocean Data Portal/MDAT), and Karl Vilacoba (Mid-Atlantic Ocean Data Portal/Monmouth University Urban Coast Institute).
Join the webinar using this link: https://monmouth.adobeconnect.com/marinelife/.
For planning purposes, please register by emailing Karl Vilacoba (kvilacob@monmouth.edu) if you plan to attend.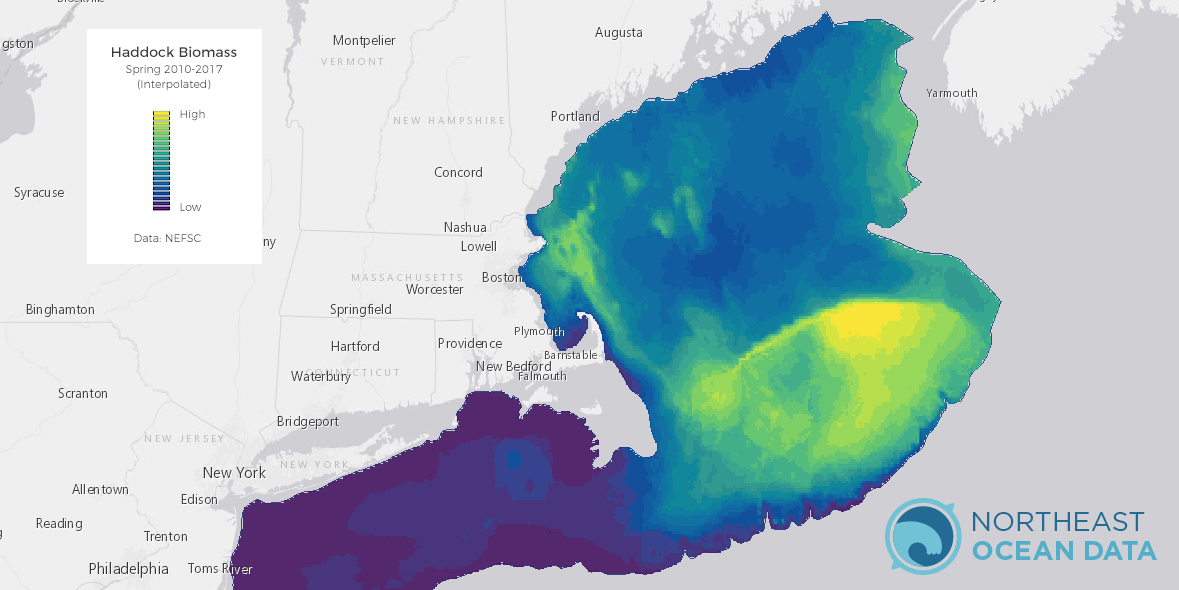 The webinar will feature new maps of marine life, such as this example showing haddock biomass based on NEFSC spring trawl surveys from 2010 to 2017.
Summary
Article Name
Public Marine Life Webinar to be hosted by Northeast Ocean Data Portal, Mid-Atlantic Ocean Data Portal, and MDAT
Description
Public webinar will introduce new Marine Life maps, demonstrate Portal features, and answer questions
Publisher Name
Northeast Ocean Data Portal
Publisher Logo