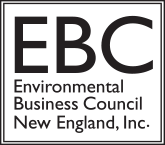 Please note: This event has been postponed and will be rescheduled shortly.
Nick Napoli and Emily Shumchenia of the Northeast Ocean Data Working Group will be participating in a panel discussion hosted by the Environmental Business Council (EBC) in Boston on September 26.  Other speakers at "The Northeast Ocean Data Portal – Supporting Ocean Policy and Planning" will be Ted Diers of the Northeast Regional Ocean Council and Deerin Babb-Brott of the White House Office of Science and Technology Policy. 
This EBC Ocean and Coastal Resources Program will provide attendees with the opportunity to learn more about ocean policy and the data, interactive maps, tools, and various uses of the Portal. Participants will leave with an increased understanding of the available data, potential uses in management and regulatory decision-making, and plans to update and maintain the Portal over the next several years.