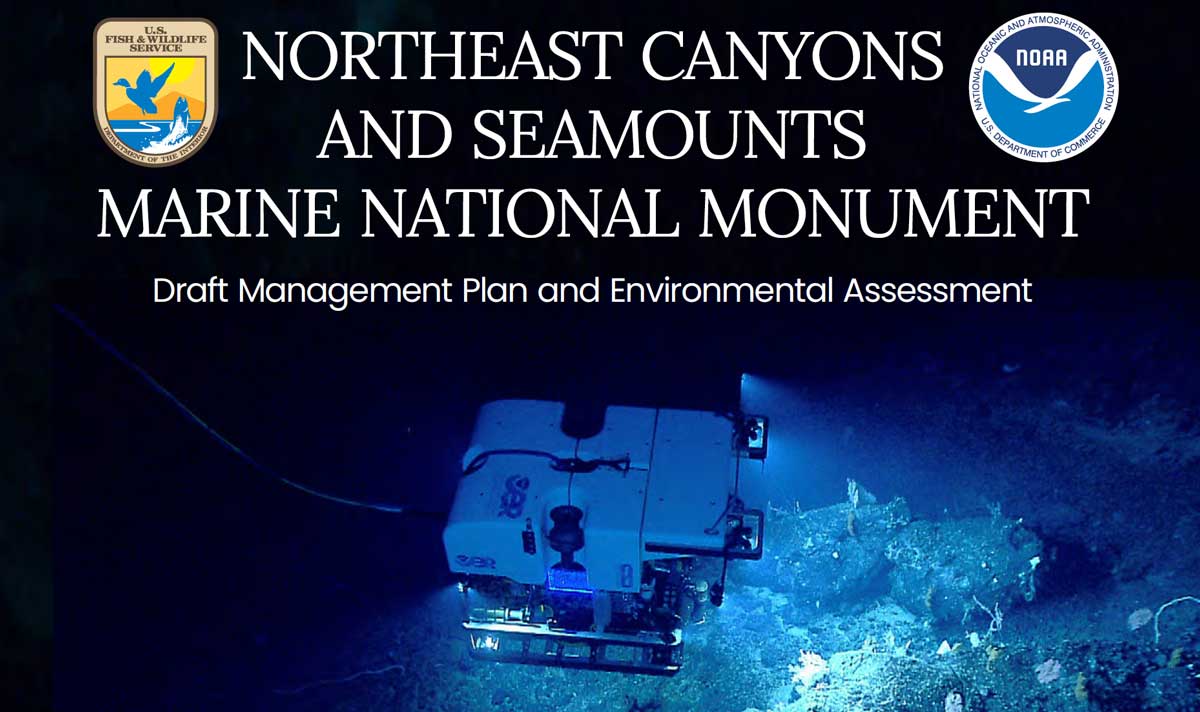 On September 12, 2023, the U.S. Fish & Wildlife Service (USFWS) and National Oceanic & Atmospheric Administration (NOAA) jointly released a Draft Management Plan and Environmental Assessment for the Northeast Canyons and Seamounts Marine National Monument for public review and comment. The deadline to submit public comments is Thursday, October 26, 2023. Visit the Federal e-Rulemaking Portal for instructions for how to submit comments: https://www.regulations.gov/document/FWS-R5-NWRS-2023-0154-0001. Comments can be submitted verbally at three virtual and three in-person public meetings in September and October 2023 (see dates and locations below).
The Draft Plan establishes the long-term vision and framework needed to provide proper care for the Monument's unique ecosystem, marine life, and natural and historical resources, as well as set priorities and goals for managing the Monument into the future. USFWS and NOAA are interested in feedback about the Draft Management Plan and Environmental Assessment, as well as additional information, data and analyses that might help to inform the final management plan and environmental assessment.
The Monument boundaries can be viewed on the Northeast Ocean Data Portal (under Administrative Boundaries) with other layers depicting ocean resources and uses. The Draft Plan itself includes references to several data layers and maps on the Northeast Ocean Data Portal. For example, below is an interactive version of the map shown in Figure 14 of the Draft Plan that shows pleasure craft sailing vessel transit counts in and surrounding the Monument in 2022.
Public Meetings
In-Person Meetings 
Plymouth, Massachusetts  
Meeting Location: Plymouth Public Library – Fehlow Meeting Room
132 South St, Plymouth, MA 02360
Date: Wednesday September 27th, 2023
Time: 5:30 – 7:30 PM Eastern Daylight Time
Providence, Rhode Island 
Meeting Location: Rochambeau Library Meeting Room
708 Hope St., Providence, RI 02906
Date: Tuesday October 10th, 2023
Time: 5:30 – 7:30 PM Eastern Daylight Time
Portsmouth, New Hampshire 
Meeting Location: Portsmouth Public Library – Levenson Room
175 Parrott Ave, Portsmouth, NH 03801
Date: Wednesday October 18th, 2023 
Time: 5:30 – 7:30 PM Eastern Daylight Time
Virtual Meetings
Date: Wednesday October 4th, 2023 | Time: 5:30 – 7:30 PM Eastern Daylight Time
Date: Friday October 13th, 2023| Time: 12:00 – 2:30 PM Eastern Daylight Time
Date: Monday October 23rd, 2023 | Time: 5:30 – 7:30 PM Eastern Daylight Time
Additional Resources: