The Need: Easy Access to Ocean Data
The U.S. National Ocean Policy of 2010 calls for regional-scale ocean planning supported by a robust data management system containing coastal and marine scientific datasets and products. Regional ocean planning is a collaborative process that depends on access to a wide range of data on environmental, socioeconomic, and regulatory parameters. Many of these data have been inaccessible and scattered among different providers.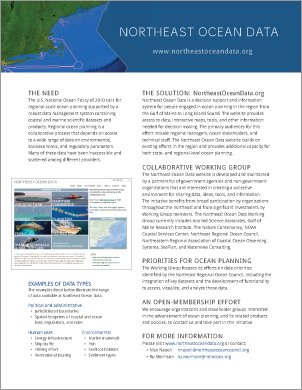 The Solution: Northeast Ocean Data
The Northeast Ocean Data website is a central source of data, interactive maps, and other tools and information to support ocean planning decision-making in the region from the Gulf of Maine to Long Island Sound. The primary audiences are regional managers, ocean stakeholders, and technical staff. Northeast Ocean Data builds on existing efforts in the region and provides additional capacity for both state- and regional-level ocean planning.
Download a one-page fact sheet (pdf)
Technical Overview
For information about Northeast Ocean Data's technical approach and system, read the technical overview.
Northeast Ocean Data Working Group
The Northeast Ocean Data website is developed and maintained by a partnership of government agencies and non-government organizations interested in creating a collective environment for sharing data, ideas, tools, and information. The initiative benefits from broad participation by organizations throughout the northeast and from significant investments by Working Group members. The Northeast Ocean Data Working Group currently includes:
Support for Regional Ocean Planning
Since the launch of the Northeast Ocean Data website in June 2011, the Working Group has focused on data priorities associated with ocean planning activities of the Northeast Regional Ocean Council (NROC). The Working Group integrates key datasets and develops functionality to access, visualize, and analyze data to support NROC initiatives.
An Open-Membership Collaboration
We work actively with many data providers, stakeholders, and organizations in the region, and we coordinate with related ocean data efforts in the mid-Atlantic region and at the federal level. We encourage organizations and stakeholder groups interested in the advancement of ocean planning, and its related products and policies, to take part in the Northeast Ocean Data initiative. For more information, please contact a member of the Working Group's steering committee: